JSON Pretty Printer by Felipe Pinheiro Silva - Toolkit for LabVIEW Download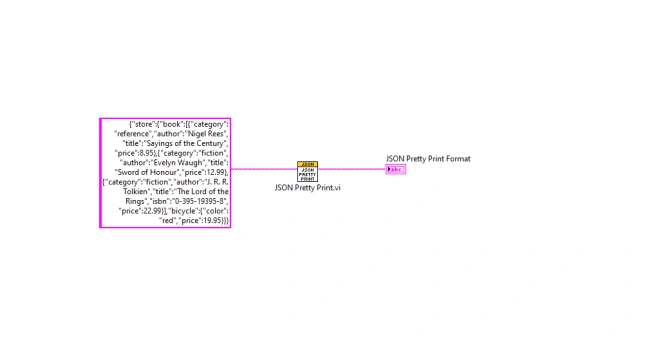 Description
JSON Pretty Printer
JSON Pretty Printer for LabVIEW.
The native LabVIEW function does not provide the functions to pretty print your JSON.
This library includes two simple VIs that can be used to:
- Pretty Print - human-readable with spaces, tabs and line-feeds;
- Minify - removes all white-spaces and possible comments, great for streaming or for parsing later.
Also, it does not validate your JSON.
Installation and Usage
This library can be installed using VIPM or downloading the source code directly.
As it does not have any direct dependency, it should work on both.
Release Notes
1.0.0.9 (Jun 23, 2021)
[1.0.0]
BREAKING CHANGES
* Pretty Print changes the API and the direct upgrade
from previous version may break the code due to features inserted.
* Minify function deprecates the Compact Print VI. The
algorithm is recognized and tested. It removes any comments from JSON if
they are present.
- Features
* includes new function for minifying JSON
- Tests
*unit:** add tests for pretty print and minify vis
- Code Refactoring
* includes the space after : and cut trailing zeros
- Docs
* includes snippet and project avatar
* updates README with better project description
Blog Post Release
Last week I was surfing the internet (does anyone use this expression yet?) and I stumbled upon a p…
by Felipe Pinheiro Silva, 2 years, 2 months ago, 0 , 0